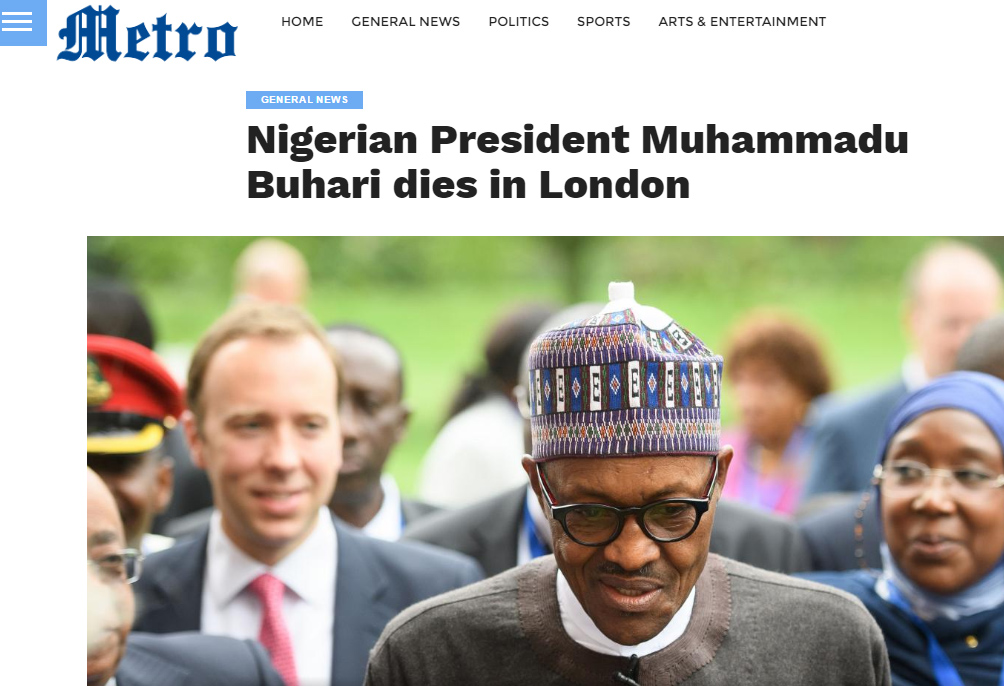 Breaking: new websites are springing up to announce the death of President Muhammadu Buhari – or his attempted suicide.
They are, in fact, spoofs, purporting to be Metro newspaper of UK or Huffington Post of US, TheCable can report.
While "Metro" reported the "death" of Buhari, "Huffington Post" said he was caught "committing suicide".
The two fake sites are operated by the same company.
The same picture of Buhari was used in both stories, and the line "The President's decision to receive medical care in a foreign land has angered some of his countrymen" was repeated word-for-word.
The owners of the two sites are listed as WILD WEST DOMAINS on whois.domaintools.com. The sites were registered in Arizona, US.
"Huffington" was registered on November 19, 2016, and "Metro" on October 25, 2016.
At the weekend, "Metro" reported: "Nigerian President Muhammadu Buhari dies in London".
This sent the internet into a frenzy in Nigeria, and the fake story was picked up by blogs and the social media.
There were glaring loopholes in the story – it referred, for instance, to the "Nigerian embassy" in London, instead of "high commission".
A bigger gaffe, though, was the attribution of the story to a statement issued by the Nigerian mission. If the president actually dies, the announcement will be made in Abuja, not London.
The brains behind the story were obviously unaware of this key protocol, but it is not unlikely they were carried away by the fact that the president is currently in London on a 10-day vacation, during which he said he would do a medical check-up.
Since he "died" in London, the announcement must be made in London!